EUR/USD
remains firm, as the pair was trading close to six-week highs. The euro has looked sharp, rising about 150 points against the dollar in the past week. After the German parliament gave approval to the Greece debt agreement, Greece has now initiated a buy-back scheme from private investors, as part of the deal. In the US, the ISM Manufacturing PMI dipped below the 50 point line, dropping to its worst level in over three years. Back in Europe, Spain posted its second strong release this week, as Spanish Unemployment Change was well below the forecast.
EUR/USD Technical
Asian session: Euro/dollar was steady, as the pair consolidated at 1.3059. The pair has edged higher in the European session.
Current range: 1.3030 to 1.3080.
Further levels in both directions: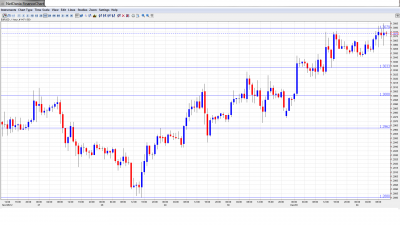 Below: 1.3030, 1.30, 1.2960, 1.2880, 1.28, 1.2750, 1.2690, 1.2624, 1.2590, 1.25, 1.2440, 1.2390 and 1.2250.
Above: 1.3080, 1.3140, 1.3170, 1.3290 and 1.34.
1.3030 has strengthened on the downside as the pair improves.
1.3080 is under pressure on the upside. 1.3140 is the next line of resistance.
Euro/dollar steady as Greece implements buy-back program– click on the graph to enlarge.
EUR/USD Fundamentals
8:00 Spanish Unemployment Change. Actual 74.3K. Exp. 90.0K.
All Day: ECOFIN Meetings.
10:00 Euro-zone PPI. Exp. 0.0%. Actual +0.1%.
15:45 US FOMC Member Daniel Tarullo Speaks.
Open Forex Account
Disclaimer The analysis we provide is based on the average estimate of price movements in one day. Does not guarantee what we deliver is actually a proper and correct. Everything that happens in the decisions you make on your trading transaction is to be Your responsibilities.
Visit Us www.deryworldscorp.web.id