Dollar/yen
reached 8 month highs, but could not sustain all the gains, as the yen eventually enjoyed some safe haven flows due to fiscal cliff issues. Household Spending, Tokyo Core CPI and Retail Sales are the main events on our calendar. Here's an outlook for the Japanese events and an updated technical analysis for USD/JPY.
Last week
The conservative Liberal Democratic Party has returned to power
. Prime Minister Yoshiko Noda resigned after the elections calling the results a "disappointment." The new Prime Minister Shinzo Abe, is set to enact an extra loose monetary policy to boost the economy and work towards renewing good relationships with China. Will he succeed to improve economic activity in Japan? In the US, the collapse of fiscal cliff talks and
Plan B
dampened the global mood and sent the dollar higher and the yen even higher.
USD/JPY daily chart with support and resistance lines on it. Click to enlarge: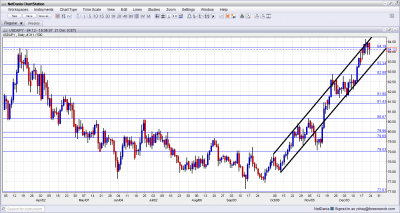 CSPI: Monday, 23:50. Japan's corporate service price index dropped 0.7% on a yearly base in October, decreasing for the fifth month due to lower costs in the advertising and information communications sectors. The reading was worse than the 0.6% drop forecasted. In September, prices dropped 0.5%. Another decline of 0.6% is expected this time.
Monetary Policy Meeting Minutes: Tuesday, 23:50. The last BOJ policy meeting minutes revealed a strong disagreement between board members pressing to maximize the ultra-loose policy, siding with Shinzo Abe, the leader of the opposition Liberal Democratic Party and between BOJ Governor Masaaki Shirakawa's supporters claiming monetary easing alone, without active government fiscal reform cannot defeat deflation. Shirakawa did not specify when the next easing measures will occur but showed readiness to act again should Japan slip deeper into recession.
Housing Starts: Thursday, 5:00. Housing starts in Japan surged 25.2% on a yearly base in October, a second consecutive rise, following a 15.5% increase in September. The rise occurred in light of a 5.8% drop in October 2011, when demand declined after the government ended its subsidies for building energy-saving homes in July 2011. Another climb of 10.9% is expected now.
Manufacturing PMI: Thursday, 23:15. Japanese manufacturing activity plunged in November at the fastest pace in 19 months, to a seasonally adjusted 46.5 in November from 46.9 in October. The weak figures go hand in hand with the slowdown in overseas markets which will probably cause another GDP contraction in the fourth quarter.
Household Spending: Thursday, 23:30. Japanese household spending fell 0.1% in October from a year earlier following a 0.9% plunge in September. However the decline was less than the 0.8% drop expected. Spending increased 0.6% from the previous month. An increase of 0.8% is forecasted.
Tokyo Core CPI: Thursday, 23:30. The early core inflation indicator from Tokyo declined 0.5% in November from a year ago, after a 0.4% drop in the previous month. The reading was worse than the 0.4% decline predicted by analysts. Meanwhile the national core CPI stayed unchanged, beating forecasts for a 0.1% decline. Tokyo Core CPI is expected to decline 0.5%, while National core CPI is forecasted to decline 0.1%.
Prelim Industrial Production: Thursday, 23:30 Japan manufacturing output edged up unexpectedly in October, rising 1.8% amid new IPhone surprising gains. This increased followed a 4.1% drop in September. Analysts expected a decline of 1.8% in October. The recent reading exemplifies Japan's dependence on foreign market demand. A drop of 0.5% is anticipated now.
Retail Sales: Thursday, 23:50. Japan's retail sales declined more than predicted in October, down 1.2% from a year ago, following a 0.1% rise in September, Indicating Japan's retail sales are faltering due to the general slowdown in economic activity. Analysts forecasted a smaller drop of 0.7%. A rise of 1.3% is forecasted.
Average Cash Earnings: Friday, 1:30. The average cash earnings per regular employee in Japan registered the first climb in four months, rising 0.2% in August on a yearly base following 0.5% decline in July. However the recovery in wage growth is marginal since base wages were barely changed. A decline of 0.4% is expected this time. Disclaimer The analysis we provide is based on the average estimate of price movements in one day. Does not guarantee what we deliver is actually a proper and correct. Everything that happens in the decisions you make on your trading transaction is to be Your responsibilities.
Visit Us www.deryworldscorp.web.id